Protocol Finder
Protocol Finder,
proDAD Protocolfinder:
A little Tool will list all protocols on your system.
How to use: Start the little Tool (Link #1) and send us the .gz file.
If there is a problem:
If the tool not starts, please install Microsoft NET 2.0 (Link #2 or 3).
Note: Ideally you will send us your request by program-menu "Help", in case of problems send an email .... Then the installation and user protocol is also sent to us automatically as a zip file.
You do not need to do anything else.
By the way, the transferred data does not include any personal information.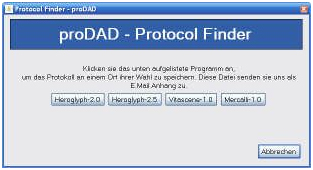 Links:
Link #1: prodad-protocolfinder.exe

Link #2:

Microsoft NET 2.0 (x86)

(32bit)

Link #3:

Microsoft NET 2.0 (x64

)

(64bit)
Mercalli v6 RT (Real-Time) Plug-ins voor MAGIX is nu beschikbaar